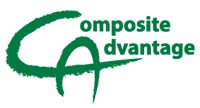 Industry Focus
Composite Advantage (CA) is the leading manufacturer of large Fiber Reinforced Polymer (FRP) products for the civil and waterfront infrastructure markets. Its products include vehicle bridge decks, pedestrian bridge decks, fender protection systems and large separators for berthing Navy vessels at piers. CA combines resin infusion technology with efficient manufacturing and flexible production cells to develop breakthrough approaches to large structure FRP molding. Composite Advantage is a nationally recognized expert in manufacturing of FRP structures up to 100 ft. long.
Business Challenge
Composite Advantage's lead development and demand generation methods were limited. Only a few of the information requests received were from people who were ready to "talk shop" or get a project quote. Composite Advantage's main contact database consisted of just a few hundred people who merely received an email newsletter. In addition, opportunities also existed within their reservoir of business cards and other miscellaneous databases with contacts. No system was in place to keep track of marketing and sales engagement. Composite Advantage maintained a website that housed example projects, capabilities and latest news; however, the site lacked conversion opportunities to engage when a prospect was searching. Composite Advantage had also put in place, a Google AdWords campaign, but lacked the time to manage it. The company had a presence on social media; however, engagement was extremely limited.
Acadia was presented with the challenge to coordinate, expand upon and execute on an integrated, cohesive lead and demand generation effort on behalf of Composite Advantage.
How Acadia Helped Composite Advantage
Reaching perspective clients, engaging them on the Composite Advantage website, and converting them into Request for Quotes (RFQs) was the goal for Scott Reeve, President of Composite Advantage. The company's marketing activities included attending events, such as tradeshows and conferences, as well as sending out press releases, and quarterly newsletters. Acadia took on the responsibility of managing these, as well as augmenting additional activities such as email campaigns, website redesign, and paid search campaigns, all with the goal to generate more leads and more clients. Part of this strategy also included cleaning the contact database and adding contacts that were in spreadsheets and business card files, and creating a process by which Acadia was diligent in capturing contacts from all activities to ensure they were not forgotten.
All of the above was managed in a marketing automation tool, HubSpot, where data points could be captured and analytics could provide feedback to drive to stronger results. By integrating inbound and outbound efforts, Acadia was able to maximize the effectiveness of both strategies for Composite Advantage.
Acadia's marketing efforts have proven successful for Composite Advantage. Web visits increased by 43% and visitors-to-contact conversions increased by 130%. Scott stated, "The coordination of the previously discrete marketing efforts means that the activities now reinforce each other. This means that I now get a better ROI on what I spend on each of the efforts."
Composite Advantage's sales cycle is between 1-3 years, and it is anticipated that company revenue will increase by 40% in 2016, with approximately a quarter of that growth specifically attributable to Acadia's marketing efforts. In 2017, Composite Advantage expects an additional 40% revenue growth, at least half of this increase due to Acadia efforts, and the number of customers expected to nearly double in the same year.
Why I Recommend Acadia
"The results speak for themselves. Having worked with Acadia previously on some very targeted initiatives, it was clear that Acadia understood my business. Acadia's engineering background and emphasis on manufacturing customers gave us the confidence that Acadia could translate our technology effectively to the market, achieve the desired results and work effectively with my other vendors. "
Scott Reeve
President
Composite Advantage